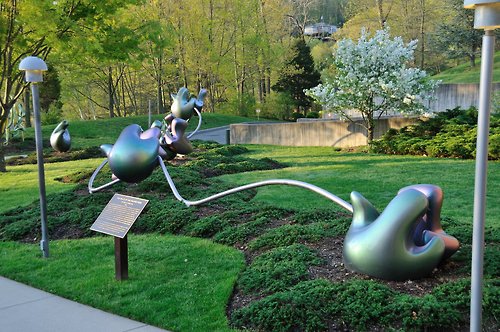 ART MEETS GENOMICS AT BIO ANNUAL CONVENTION IN JUNE
Unique Mixed Media Sculpture Installation Created by Mara G. Haseltine to Be Exhibited at World's Largest Gathering of Biotechnology Companies
Reception to Be Held for the Art Community and Media June 25
WASHINGTON, DC – June 9, 2003 – The sculpture "Waltz of the Polypeptides" will be exhibited in the grand lobby of the new Washington Convention Center from June 21-June 25 during BIO 2003, the annual convention of the Biotechnology Industry Organization (BIO). A reception will be held from 5:00-7:00 PM on June 25th, with the artist in attendance, in the main lobby of the Washington Convention Center at Mt. Vernon Place in Washington, DC. (Those interested in attending or covering the reception should RSVP to mara@calamara.com or 301/340-3451.)
BIO 2003 is the world's largest gathering of biotechnology companies. Between 15,000 and 20,000 biotechnology and pharmaceutical company CEO's, executives and scientists from all over the world are expected to attend this year's meeting.
The one hundred and ten feet long, mixed-media sculpture installation was inspired by a subject so small that it can only be seen with an electron microscope – a sub-cellular organelle called a ribosome. Ribosomes are the cell's "factories" that translate DNA sequences received via messenger RNA into proteins. As the viewer traverses the length of the sculpture, he witnesses the birth of a protein unfolding.
To create "Waltz of the Polypeptides," the artist Mara G. Haseltine translated scientific data into three-dimensional images. The artist studied the molecular structure of the ribosome and proteins. Authentic molecular renderings and nuclear resonance images were used as patterns for the armatures. The data were converted into an accurate three-dimensional model on the computer, and the work was fabricated using computer-driven rapid prototyping and 5-axis milling. The resulting work reveals the aesthetics of nature's smallest building blocks of life. The scale of the installation brings its viewers into a different dimension where they become part of a fantastical landscape that is in fact part of the human body.
The sculpture portrays the biological creation of the BLyS (B lymphocyte stimulator) protein, which plays an important role in the immune system. Human Genome Sciences' discovery of BLyS underlies three of the Company's drugs currently undergoing clinical trials – BLyS for the treatment of immunodeficiencies, LymphoRad™ for the treatment of multiple myeloma and non-Hodgkin's lymphoma, and LymphoStat-B™ for the treatment of lupus and rheumatoid arthritis.
The work was commissioned for installation at Human Genome Sciences in Rockville, MD. The artist, Mara G. Haseltine, can be contacted through her website at www.calamara.com.