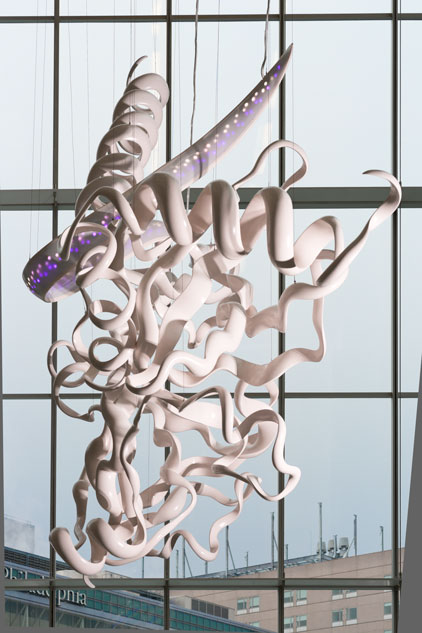 My newest work was unveiled this March at UPenn's Basser Research Center for Breast Cancer Research.
The sculpture is based on the BRAC2 gene, which is associated with breast cancer, in the act of "homologous recombination," a process in which DNA strands repair damage in sister DNA strands that can lead to the disease.
Download the press release for more info: Homologous Hope Press Release.
Here are some links to press about the sculpture. Also, see below for a time-lapse video of the installation:
UPenn – Celebrating the Homologous Hope Sculpture for the Basser Research Center for BRCA
Penn Medicine – New Art Installation Illustrates DNA Repair and Celebrates Hope for Patients and Families Carrying BRCA Mutations
The Daily Pennsylvanian – 'Homologous Hope' sculpture combines art and science to celebrate cancer research
Penn Medicine – The Basser Center's Homologous Hope in Times Square