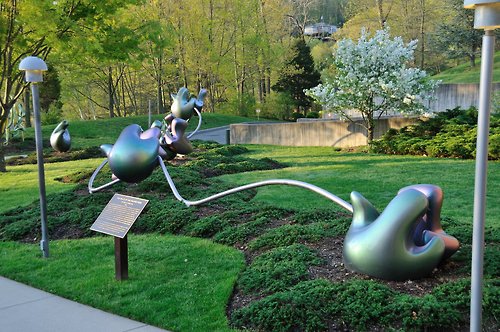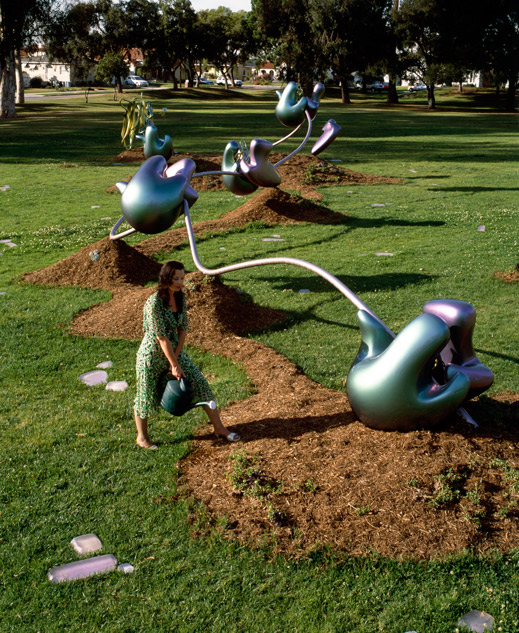 above image of "Waltz of the Polypeptides" 2003
Geotherapy: from the Nano to the Geo: Lecture How art can Heal the Planet
Nov 13th at 3:pm
1 Bungtown Rd
Cold Spring Harbor, NY
(516) 367-8800
I will be giving a talk Cold Spring Harbor Labs which actually is the home of the largest sculpture I have ever made at 84′ long and 17′ wide.
Cold Spring Harbor Laboratory (CSHL) is a private, non-profit institution with research programs focusing on cancer, neuroscience, plant genetics, genomics and quantitative biology.[2] It is one of 68 institutions supported by the Cancer Centers Program of the U.S. National Cancer Institute (NCI) and has been an NCI-designated Cancer Center since 1987.[3] The Laboratory is one of a handful of institutions that played a central role in the development of molecular genetics and molecular biology.[4] It has been home to eight scientists who have been awarded the Nobel Prize in Physiology or Medicine. CSHL is ranked among the leading basic research institutions in the world in molecular biology and genetics.[5] The Laboratory is led by Bruce Stillman, a biochemist and cancer researcher.
Since its inception in 1890, the institution's campus on the north shore of Long Island has also been a center of biology education. Current CSHL educational programs serve professional scientists, doctoral students in biology, teachers of biology in the K-12 system, and students from the elementary grades through high school. The CSHL Meetings & Courses program annually draws over 8,500 scientists and students to the main campus.[6] For this reason, many scientists consider CSHL a "crossroads of biological science."[7] CSH Asia [28], in Suzhou, China, annually draws some 3,000 scientists to its meetings and courses.